Travel Information

---
Passport and Visa
All travelers entering
Japan
must have a valid passport. A participant requiring a visa
should apply to a Japanese consular office or diplomatic mission in his or her respective
country prior to departure. Participants are advised to contact their local travel agencies
or airline companies for assistance.
Currency
The currency used in Japan is yen. Foreign currency or travelerüfs checks can be changed
to yen at major banks, hotels, or airports. Only Japanese yen is accepted at stores and
restaurants.
It is necessary to show your passport when changing travelerüfs checks.
Bills come in units of 1,000, 2,000, 5,000 and 10,000 yen, and coins in units of 1, 5, 10,
50, 100, and 500 yen.
The approximate exchange rate for U. S. $1 is 103yen (as of May 2008).

Travelerüfs Checks and Credit Cards
Travelerüfs checks are not as popular in Japan as in some other countries. They are
usually accepted only by leading banks and major hotels.
American Express, Diners Club, MasterCard, or VISA are widely accepted at hotels,
department stores, shops, and restaurants.

Tax and Tipping
There is no custom of individual tipping in Japan. Instead, a service charge will be
included in the bill where applicable. A 5% sales tax applies to almost all consumer
goods made in Japan.


Climate
The climate in Tokyo in September is hot and humid with the temperatures ranging
from 20üőC to 30üőC.

Electricity
Japan operates on 100 volts for electrical appliances. The frequency is 50 Hz in eastern
Japan including Hakone.

Access to Hakone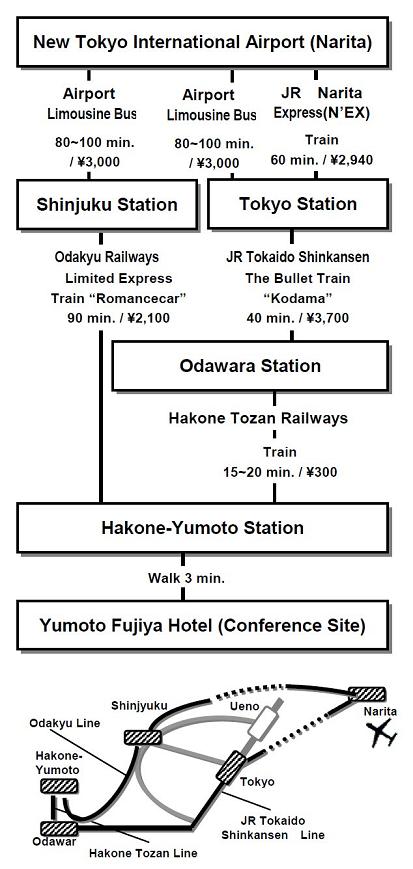 Map of Conference Site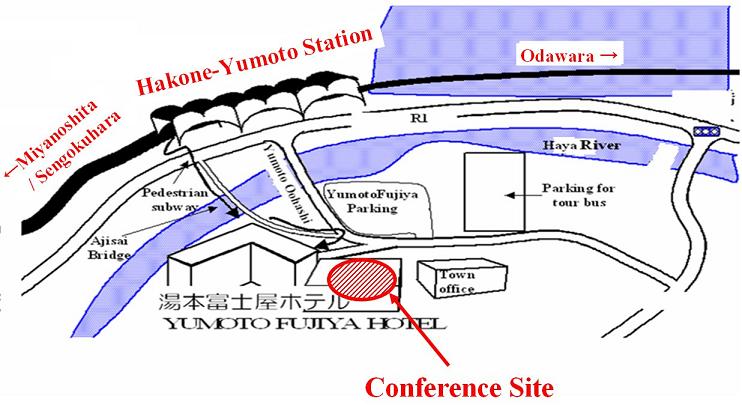 ---
Yumoto Fujiya Hotel
256-1 Yumoto, Hakone-machi, Kanagawa 250-0392
TEL: +81-460-85-6111 / FAX: +81-460-85-6142

Map of Conference Rooms