The conference will be held at the Holiday Inn Munich - City Centre (former FORUM Hotel), located close to the historic center of Munich within a 40 minutes distance to Munich airport.
The city center around the Marienplatz is a pedestrian zone that can be easily reached by a few minutes walk, and the famous "Deutsches Museum" is in a five minutes walking distance from the hotel.
So, in addition to the conference technical program, there will be ample opportunity for social activities allowing the attendees to enjoy their staying.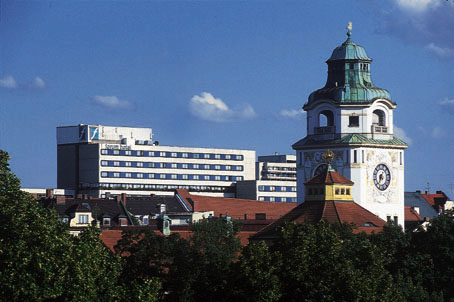 How to get to the conference site:



By taxi from the airport:
An average ride by taxi from Munich airport to the Holiday Inn Munich - City Centre should take about 45 minutes.

Public transportation from the airport:
Two S-train (S-Bahn) lines (S1 and S8) serve the Munich airport to downtown Munich. Access to the S-train station is marked by this sign: The ride takes 40 minutes.
To reach the Holiday Inn Munich - City Centre get off at the stop "Rosenheimer Platz", which is located right beside the hotel building.

Arrival by train:
After arriving in Munich main station (Hauptbahnhof), you may take a taxi or use any of the eastbound S-train lines to reach the Holiday Inn Munich - City Centre. Get off at

the stop "Rosenheimer Platz", which is located right beside the hotel building.








You may find additional useful information in:

Munich Airport

Timetable S1/S8 Munich Airport - Munich center (PDF)

Munich S-Bahn

Map of municipal rail network (S-Bahn and U-Bahn) (PDF)

Munich public transportation (MVV)

Munich main station (Hauptbahnhof München)

Hotel reservation information can be found here